'Cemented Friendship'
A Short Sensual Story From (1978) Penthouse Forum
by Anonymous
***
I never thought that I would be writing to Penthouse until the other day, when an incident happened to me that I would like to share with you.
I read Penthouse every month and especially enjoy the "Forum"
letters.
I'm a straight male, twenty-one and enjoy sex with my girlfriend very much.
Well, the other night, my best friend— whom I'll call Sam—was out riding around with me.
Having nothing else to do, Sam and I decided to go to his house and party for awhile. (His mother was out of town).
We got there, fired a few joints, and drank some liquor. I was getting pretty fucked up, so instead of driving home, I decided to stay with Sam and sleep it off. I'd done this several times over the years, but this night was different.
We went to bed, listening to the stereo and talking about pussy. Pretty soon I had a tremendous hard-on, and Sam did, too.
This got me thinking of my girlfriend so I decided to call her. Sam heard me on the phone and said I should tell her to come over. So I did.
Then Sam called his girlfriend, but there was no answer. My girlfriend got there in 10 minutes. It was a small town.
We all went up to the bedroom and smoked a joint. After awhile, we all lay down on the bed and fell asleep. My girlfriend was between me and Sam.
I woke up a little while later and was feeling horny so I slipped my hand into my underwear and was fondling my dick a little, hoping Sam wouldn't notice.
To my surprise, he did. He rolled over and slipped his hand in his underwear too and started to masturbate. He was staring at me over top of my girlfriend.
I didn't know what to do, but I was feeling awfully good and it made me incredibly horny to think that Sam was doing this right next to my girlfriend.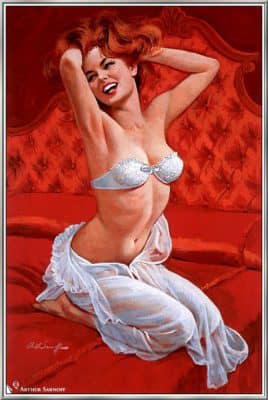 Then my girlfriend woke up and saw what we were doing.
So she leaned over me while I was masturbating and more to my surprise proceeded to give me a hell of a blowjob.
She took all of my cock into her mouth then rolled her tongue around on the head of my dick.
She then started licking my balls and my asshole then went back to sucking my cock.
All while Sam watched!
I couldn't control it any longer – I shot my load into her mouth and she swallowed every drop.
So now, I had lost control of myself.
I told her to lie back and relax and then went down on her and gave her head. By then I had another hard-on.
Sam saw this, went to the bathroom and came back with the Vaseline.
He proceeded to grease my cock and then told me to get down on all fours. He mounted me from behind. Sam's cock is only about 4 inches long, but it still hurt a little as he put his cock up my ass. He then proceeded to fuck me until I came a second time.
My girlfriend watched all this with a small smile on her face.
It was, I might add, fantastic.
I couldn't have taken it if Sam had been any longer. He fucked me in the ass until he lost his load again. The warm come felt good up my asshole.
After that we got back into bed and smoked another joint. My girlfriend said she wanted to feel what it was like to have a dick up her ass, but was afraid it might hurt.
So I said try Sam because he has only four inches. They both agreed and my girlfriend started touching Sam's cock and he got another hard on.
He then got behind her and gave her long slow pumps and they both came about the same time. It was incredible to watch!
By then we were all so worn out that we fell asleep.
I had never had a threesome before this.
The next day, Sam sprung it on his girlfriend about what happened that night and she wanted to get in on it.
So, now occasionally when we have nothing to do, we all get fucked up and sleep together as a foursome! It's really cemented my friendship with Sam.
THE END
—Name and address withheld for this sensual story
---
THANK YOU FOR READING THIS SENSUAL STORY.
HAVE A SENSUAL DAY.
Dyann Bridges  xoxo