'DIRTY POOL'
Erotic Short Story From (1978) Penthouse Magazine
by P.J.. Yonkers. N.Y.
I'm a lifeguard at a pool in Westchester County (NY) and most of the days are tiring, drawn-out affairs in which my only aim is the acquisition of an extremely dark suntan and a paycheck.
But one day last July I was assigned to close up the pool.
There had been one girl I had been noticing all day and she had stationed herself right by my chair  – probably to collect some glorious rays – but I had noticed that she kept positioning herself to face the chair and kept her eyes glued on me.
The flesh from her luscious breasts quivered as she rested her nipples on the blanket she had brought.
Finally, after I had cleared everyone out, I noticed that she was maintaining a holding pattern where I had been sitting before.
My cock immediately sprang to attention, causing considerable pain in my skimpy trunks. It rubbed against my thigh and I was forced to run with a limp making me look like a veteran.
Just as I came up to her. she pulled down the bottom of her string bikini, revealing the kind of ass that is meant only for one thing—and I don't mean sitting down.
I obligingly pulled down my bathing suit, but before I could prod her with my rod, she leaped into the water, crying, "Lifeguard, save me!"
Taking a racing dive I struck out after her.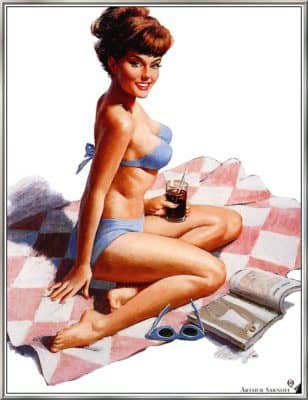 Once we had arrived at the three-and-one-half-foot section of the pool, she picked up the hose, which had been lying on the bottom, and thrust it over her pubic mound.
She was brought to orgasm within minutes, but unlike most of the mixed-up girls I go out with, she continued coming and coming.
Realizing that I was about to clog up the filter by launching my own sperm into orbit, I pushed into her from the rear and we rocked back and forth as we fucked.
The bubbles from the hose rose along my shaft as I grabbed her thirty- eight-caliber breasts and squeezed them in absolute ecstasy.
I came four times that night and we finally collapsed exhausted on the deck, only to be awakened by the dawning sun.
I haven't seen her since then, but I'm anxiously awaiting the return of my filter lucking friend.—P.J.. Yonkers. N.Y.
THE END
---
THANK YOU FOR READING. I hope you enjoyed this erotic story.
HAVE A SENSUAL DAY.
Dyann Bridges  xoxo