What is Tantra Massage Therapy?
Tantra Massage Therapy is an energetically based form of bodywork that begins with a hands-on approach and physical touch.
So basically, it's much like Reiki.
Reiki is more concerned with the physical effects of the energy healing, whereas Tantra Massage Therapy is concerned with your over all healing.
What this means for you as a client of Tantra Massage Therapy is this;
You'll have an experience where the tantric massage therapist uses their own energy, as well as, external energy sources (Divine/Universal/God forces) to be directed at you for healing and rejuvenating your spirit.
Your energy channels will be cleansed, balanced, and activated for the best results.
Energy is awakened within you and directed by the tantric massage therapist in very specific ways.
The idea is to not only heal the energy within your physical body, but within your mental, emotional and spiritual bodies too.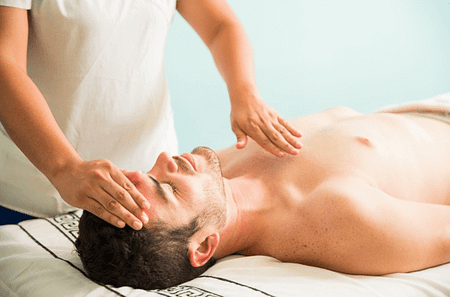 When authentic tantric techniques and principles are maintained, tantric massage therapy is a highly sophisticated form of massage.
It's been know to bring about miraculous healing effects.
Tantric massage therapy is most acclaimed for its ability to eliminate blockages of all kinds;
physical
sexual
energetic
emotional
mental
restores vitality
increases stamina & longevity of all kinds
and even more!
In the tantric tradition, the human body is regarded as a temple, worthy of worship, sacred admiration, and… intense pleasure beyond imagination…
What does Tantra Massage look and feel like?
It is important to understand that Tantra Massage is a whole-body experience.
All aspects of your being and all parts of your body are addressed.
Nothing is left untouched, even those parts of the body deemed "untouchable" and forbidden by government standards and modern social norms.
However, if you are practicing this type of massage as a profession, NOT using your hands in certain areas is a good thing. Parameters need to be set before the session starts.
Although if this is a romantic and intimate personal experience, feel free to touch the receiver any place you and they would like. All the while keeping the energetic and Divine component intact. Focus. 🙂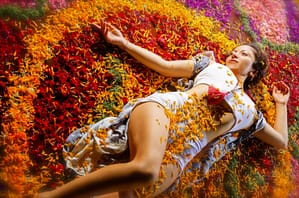 To fully benefit from all that Tantra Massage therapy can offer it is important to first bring the receiver to a deep state of relaxation and calmness in their mind, body, and spirit.
In this condition, there is more comfort and rapport between giver and receiver which ultimately makes it a more intense healing experience.
Tantra Massage typically starts off as a hands-on practice where oil is applied, and the physical tissues are massaged from head to toe.
The seven chakras of the body are energized and activated while key trigger points are pressed to release energy in a precise way.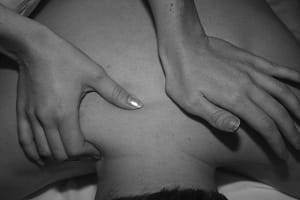 When you let go enough to allow energy through, it starts to be dispersed throughout the entire body.
This is the point in the massage where you may experience… a full-body energy orgasm.
I personally have not experienced this… However, if done with the correct technique and intent, it's supposed to be a divine and sublime healing event.
In its more advanced forms, Tantric Massage Therapy…
Can be performed without physical touch and use pure energy only. This takes some time and practice to achieve.
---
Thank you for your interest in THE BODY HOUSE
Popular Posts…
10 Things NOT To Do During An FBSM…
'Elevator Man' An Erotic Story Narrated by Dyann Bridges
---
Thank you for your interest in The Body House..
ALL Links – https://linktr.ee/bodyhouse1
Contact Dyann at: thebodyhouse.biz@gmail.com
Relationship SAVING HUG – Soulmate Embrace {FREE eBook}
Rejection Proof Move! {Turned Her On In Seconds}
30 Romance Tricks That Work Like Magic {FREE Ebook}
Relationship Magic – Free eBook
V&V Chronicles – Celebrating vamps, varlets & vintage fiction 
ALL LINKS – https://linktr.ee/thebodyhouse1