OK.. I wanted to write this up because I had this guy contact me who was extremely rude, yet didn't seem to realize how ridiculous he was.
It would be a blip on the radar screen if it was an isolated incident.
However, waaaay too many men think they are "nice guys" when in reality they display an attitude of entitlement and are just plain jerks.
Let me show you an example. I took screenshots of the text interaction.
**My Ads and my website say that I answer calls and texts and take appointments between 8-8 most days.**
This particular man called at about 7:10am. I replied by text stating the above…
I've saved his number as "What The Fuck Do You Do?" You'll see why…
For those of you who don't know… I NEVER take new clients via text. I MUST speak with a potential new client first. I don't EVER text the exact address of where I am. It's easy to get to and close to a major retail store and easy to GPS.
I've also started asking for a small deposit because of the poor attitude so many men have toward providers.
My service is almost entirely straight up massage.
More importantly… I state all this on my website and in the ads….  It continues…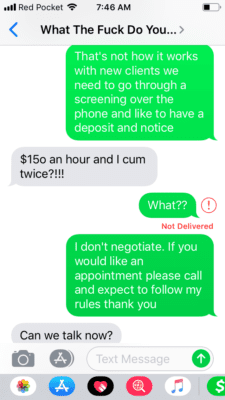 OK… do you see what's happening here?
I've said THREE TIMES so far that new clients need to CALL… yet he starts to negotiate via text.
Now he shows his TRUE COLORS…. he says he wants to "follow my rules" and wants me to feel "safe and comfortable" and then immediately launches into a request for a sexual act.
My ads are explicit in the sense that my service is "Hands Only" so it's obvious he hasn't read it.
This is so common and so basic.
Just READ a provider's profile. She will have her requirements which are quite reasonable based on the service she provides.
Yet, here is one more guy trying to get his way while making it seem like he's being so considerate.
Then when I tell him explicitly that I don't do what he wants he thinks it's okay to hurl disgusting insults.
It continues…
See that? If this guy just READ the profile he would realize that there is more to the site than just escorts… which by the way is usually the case.
But of course….. I should go back to my "backward fucking country" right?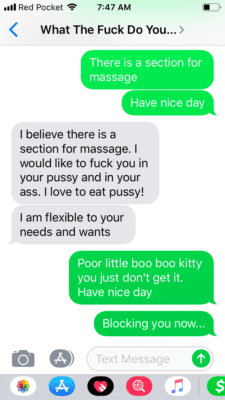 Then he tells me what type of sexual acts he wants to do to me and then ends up saying how "flexible" he is to my "wants and needs."
Are you fucking kidding me… Boo Boo Kitty?
Although this guy went to the insults quickly the attitude he displays is NOT UNcommon.
His back and forth between insulting me, the demands and the insistence that he has my best interest at heart is common for many men.
Unfortunately, many women get used to this. They grow up around it and think it's normal and that this guy is really a "nice" guy.
Until… they finally realize that guys like this are just jerking them over.
Don't be that guy.
Even though you may not engage in the name calling this guy did… don't be that guy.
---
Thank you for reading and have a sensual day, Dyann xoxo
Connect with me and Check out my other sites here…. https://linktr.ee/bodyhouse1
Contact Dyann at: thebodyhouse.biz@gmail.com